Haney's AB 1001 requires hospitals to have sufficient employees to respond to California's growing mental health and addiction crisis
For immediate release:
Nate Allbee
(415) 756-0561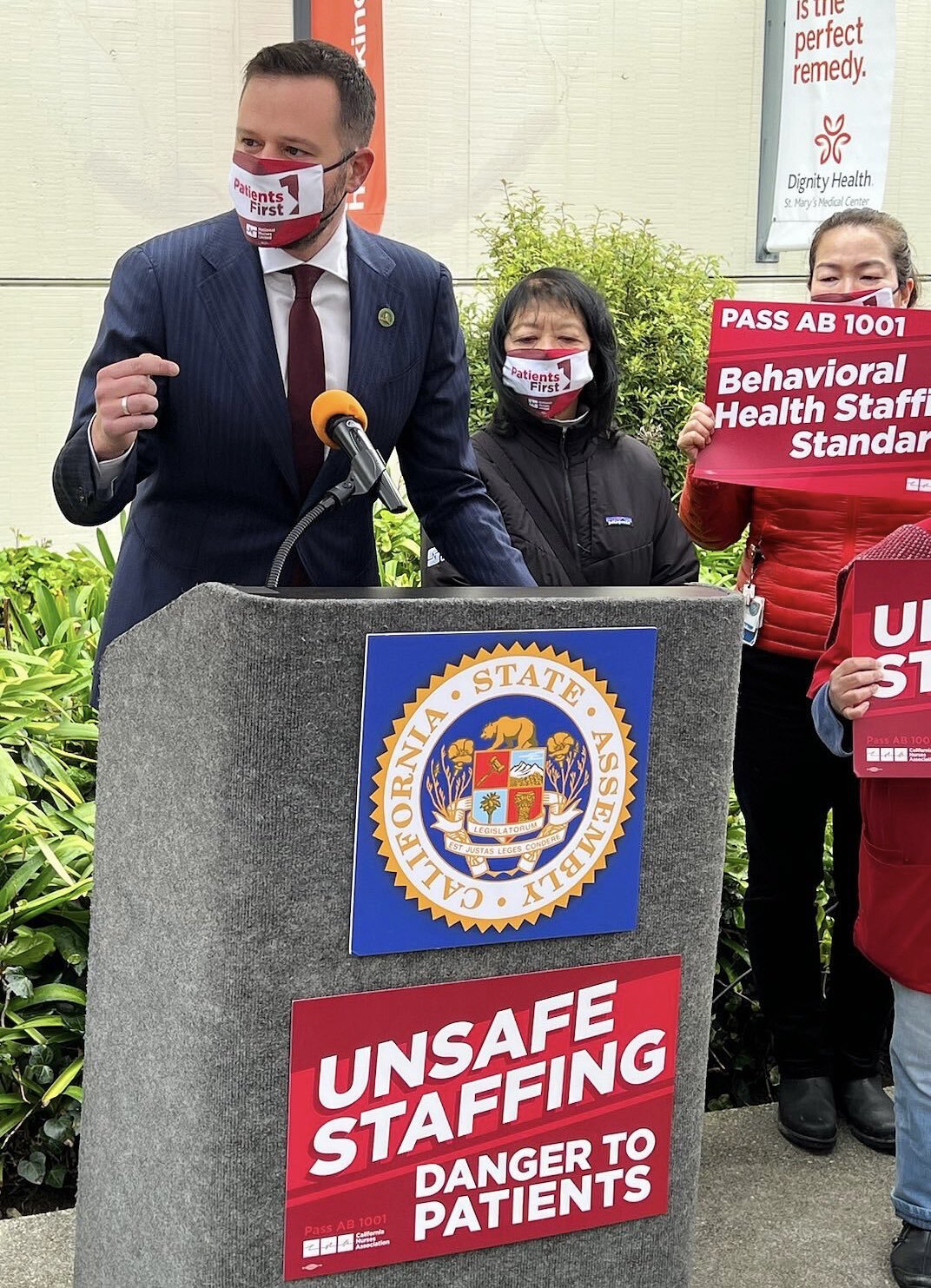 Sacramento – Assemblymember Matt Haney (D-San Francisco), in collaboration with the California Nurses Association, has introduced legislation that creates minimum mental health and addiction treatment staffing requirements for all hospitals in California. AB 1001 tackles the growing crisis of patients experiencing mental health and addiction emergencies by ensuring that they receive appropriate care in California's hospitals.
California's healthcare system is becoming increasingly overwhelmed by the number of patients suffering from mental health and addiction issues. In 2020 mental health and addiction cases represented one-third of all inpatient hospitalizations and one-fifth of all emergency department visits. Currently, California hospitals are not required to have staff available and trained to care for these patients, which leads to long wait times for patients needing urgent care and often results in worst-case scenario outcomes and preventable errors.
"California is experiencing a mental health and addiction crisis and the first place people come to get help is our hospitals," said Haney, Chair of the Fentanyl and Opioid Overdose Prevention Select Committee. "But our hospitals often don't have the appropriate staff or standards to care for these patients—that hurts both the patients and the already overworked staff. Instead of treating people with mental health and addiction issues, we're pushing them back onto the street."
For emergency department nurses and other health care workers, the number of patients with psychiatric needs being held in emergency departments is associated with increased rates of workplace violence. In California, there are more than 500,000 licensed nurses, yet only 348,000 are working in hospitals. Hospitals' inability to efficiently provide care for patients in emergency departments is causing nurses to leave the profession, further straining the healthcare workforce.
"We also need to invest in developing the workforce responsible for taking care of people with mental health and addiction emergencies." said Haney, "This bill pulls on already existing dollars to fund a mental health and addiction staff training program to make sure there is knowledgeable staff in hospitals who know how to deescalate situations and take care of patients. If we don't invest in this workforce, we'll continue to see more nurses leaving the field and fewer patients getting the help they desperately need."
"For too long, we have gone without appropriate staffing to meet the needs of patients who are facing a behavioral health emergency," said Yvette Bassett, a registered nurse in the emergency room at Saint Francis Hospital. "For patients who are suffering from an emergency, it could be a matter of life or death. Having an appropriately skilled behavioral health team would not only save the life of our patients but also provide the necessary support to the staff and nurses to appropriately care for the patient."
AB 1001 establishes a minimum staffing requirement for mental health and addiction personnel at hospitals to ensure patients in need of emergency mental health services receive timely and appropriate care. This includes at least two registered nurses and one staff member with psychiatric care experience as well as one staff member who is capable of responding to the psychosocial needs of patients who are experiencing a mental health and addiction emergency.
The bill will also create the Behavioral Health Emergency Response and Training Fund, which would be financed through already existing behavioral health care dollars. The fund would provide grants to new or existing programs that focus on training mental health and addiction personnel to work in hospitals.
####