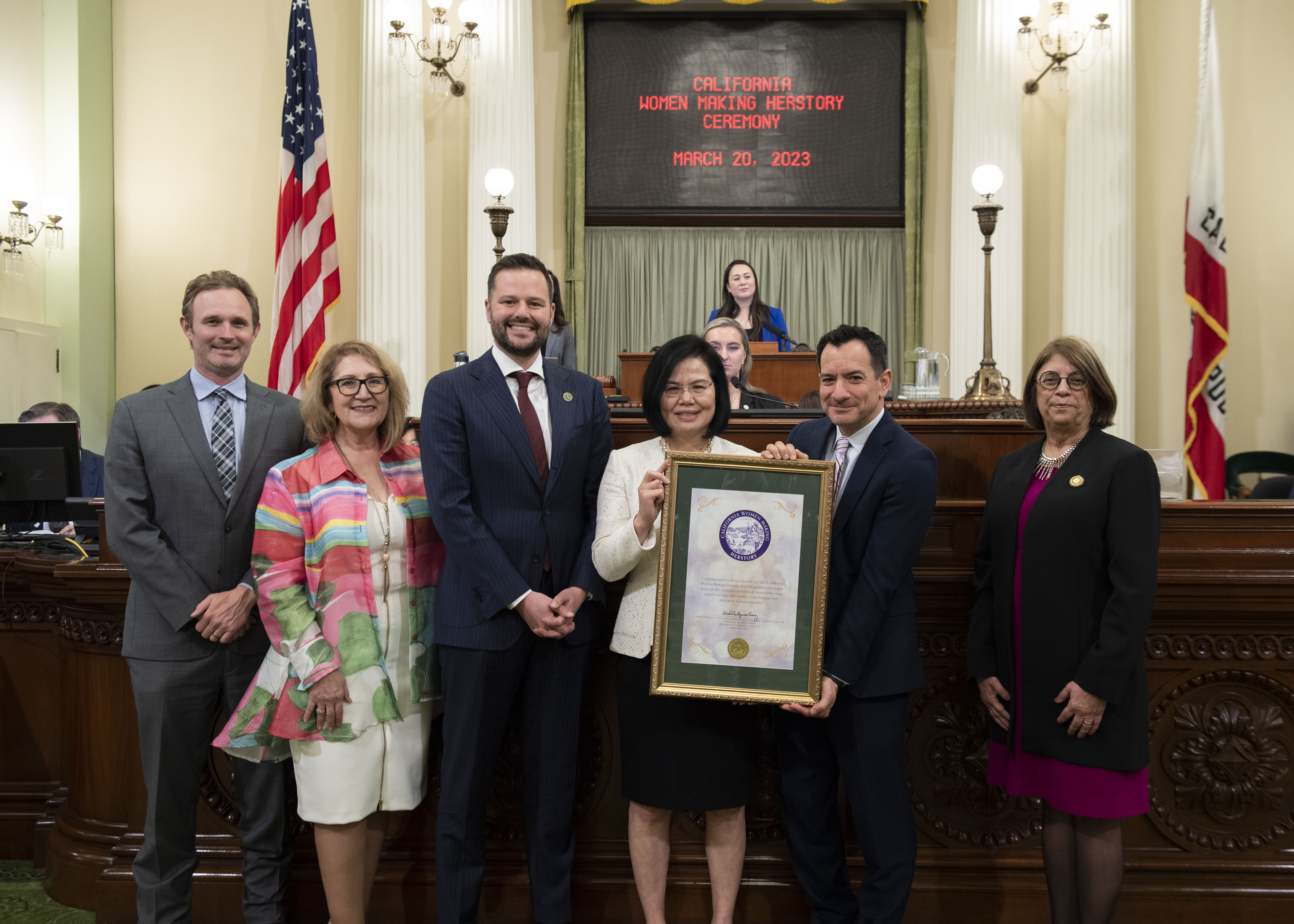 SAN FRANCISCO, CA — At a press conference today at Chinese Hospital, California State Assemblymember Matt Haney named Dr. Jian Zhang, the CEO of Chinese Hospital in San Francisco Woman of the Year. Haney nominated Dr. Zhang for the award in recognition of her exceptional contributions to healthcare and the Asian American community.
Dr. Zhang has been a leader in the healthcare industry for over 20 years, dedicating her career to improving access to care for underserved populations. As the CEO of Chinese Hospital, she has overseen the expansion of the hospital's services to meet the needs of the rapidly growing Asian American population in San Francisco.
Under Dr. Zhang's leadership, Chinese Hospital has become a model for community-based healthcare, providing culturally competent and linguistically appropriate care to patients of all backgrounds. Dr. Zhang has also been a vocal advocate for healthcare equity, working to address the social determinants of health that contribute to health disparities in vulnerable populations.
In addition to her outstanding contributions to healthcare, Dr. Zhang has been a strong advocate for the Asian American community and a vocal opponent of anti-Asian hate crimes. She has collaborated with White House representatives, local and state leaders, and community leaders to raise awareness of the surge in hate crimes and discrimination against Asian Americans.
During the COVID-19 pandemic, Dr. Zhang led Chinese Hospital in its efforts to protect the community by providing critical COVID-related services such as bilingual education/outreach, testing, contact tracing, vaccination, and treatment in collaboration with San Francisco Department of Public Health (SFDPH), UCSF and other community organizations to underserved populations, as well as provided mental health support to staff and patients affected by the trauma of anti-Asian violence.
"Asian Americans have faced unprecedented challenges in the last few years, from the COVID-19 pandemic to the rise of anti-Asian hate crimes," said Assemblymember Matt Haney. "Dr. Zhang has been an unwavering leader and advocate for the Asian American community, fighting tirelessly to ensure that everyone has access to quality healthcare. I am honored to nominate her as Woman of the Year and commend her inspiring leadership as a champion for the Asian American community and a remarkable role model for all Californians."
Dr. Zhang expressed her gratitude for the award and thanked the California State Assembly for recognizing her work. "I am deeply humbled and honored to receive this award," she said. "I accept it on behalf of the entire team at Chinese Hospital, who work tirelessly every day to provide quality, culturally responsive care to our patients. I also want to thank the Asian American community for their resilience and courage in the face of hate and discrimination. This award is a reminder that our work is not done, and that we must continue to fight for healthcare equity and social justice for all."
The Woman of the Year award, presented annually by the California State Assembly and Senate, is a prestigious recognition of the exceptional contributions made by women to their communities and the state. The award will officially be presented during Women's History Month in March at the "California Women Making Herstory" ceremony to be held at the California State Capitol next Monday.